What's going on in the Network
The Latest News from the Network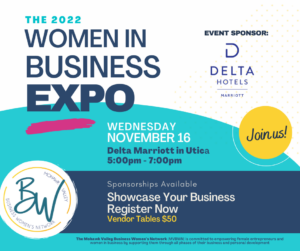 The 2022 Women in Business Expo is happening Wednesday November 16th! Registration for table vendors is OPEN and sponsorship opportunities are AVAILABLE. Grab your sponsorship before they are sold out! Click here for details. UTICA, NY, September21, 2022 – The...
Read More
Subscribe to our Newsetter
Keep up to speed on all of our Network activities as well as news from woman-owned and managed businesses across the Mohawk Valley! We generally send no more than one (1) email per week and we respect your privacy! We will not share your email address with anyone!