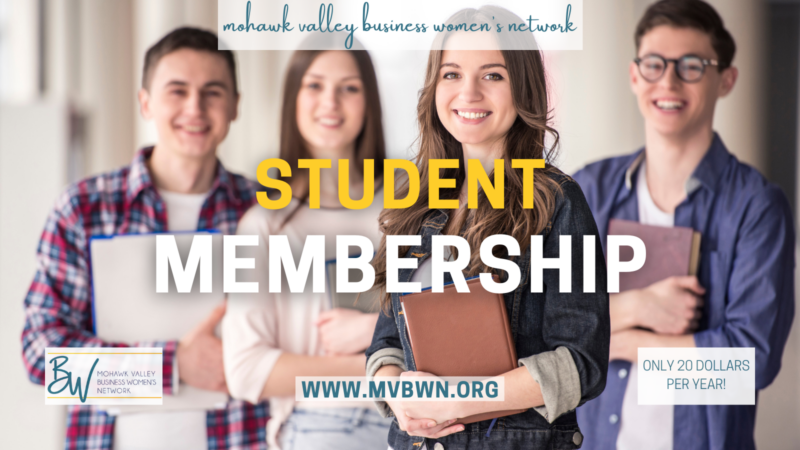 The Mohawk Valley Business Women's Network (MVBWN) is happy to offer a Student Membership to local high school or college students.
A Student Membership can benefit students looking to pursue any career field, and at any stage in their career planning—often, it helps to talk to those who have experienced career shifts in order to figure out what career you're meant to pursue. Students looking to emerge as entrepreneurs or business owners will find our group especially exciting and valuable.
The MVBWN consists of women running a large collection of businesses, so there are many opportunities to learn about career paths. Our members work in the fields of website design, marketing, real estate, business banking, wealth management, dance fitness, skincare and beauty, insurance, and wellness coaching, to name a few.
At our monthly Networking meetings, students will be welcomed into a diverse group of women who are happy to help and answer questions. Student members will gain wisdom, career advice, and business tips from our experienced business owners and managers. Monthly meetings also include themed workshops on topics such as finances, public speaking, building an elevator pitch, and more.
Apart from garnering advice from the members, students will also make valuable professional connections. A Student Membership may lead you to a referral, an internship, or a job offer from someone in the Network. As many of our members have learned, putting your name, skills, and passions out there will help you on your path to success. The more people that know about you, the higher chance you have of finding the job you're meant for.
A Student Membership costs only $20 per year. We can't wait to meet you!
—
Are you a woman in business? Do you have an idea for a startup, but have no idea how to start up? Do you want to meet and be a part of a group of supportive, talented women? Join the Mohawk Valley Business Women's Network!
You can also follow us on Instagram, LinkedIn, like us on Facebook, and sign up for our email newsletter.
Are you a student interested in entrepreneurship? Join The Network with our Student Membership!