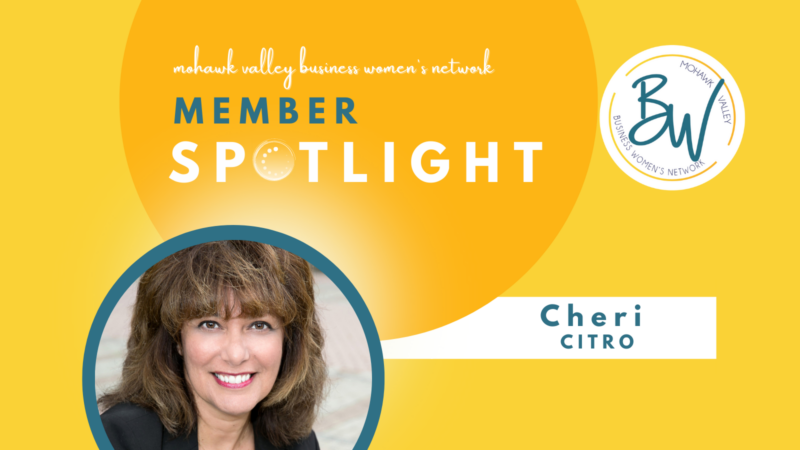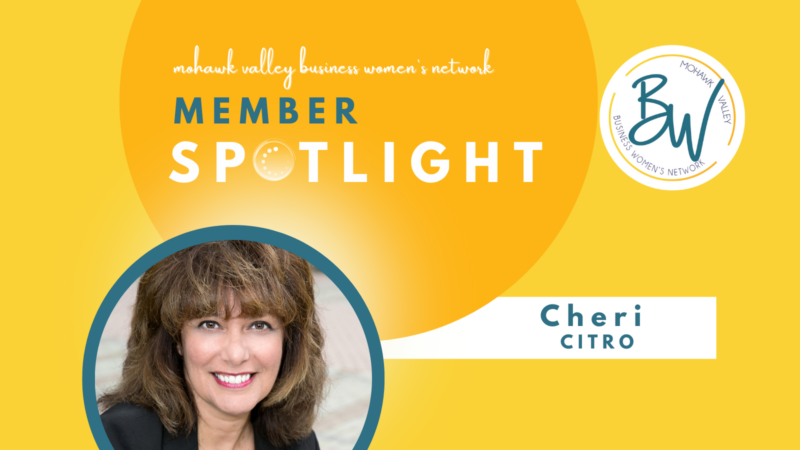 This Member Spotlight features Cheri Citro, a retired sales manager at Liberty Mutual and board member of the Mohawk Valley Business Women's Network (MVBWN). Cheri joined the Network in 2018 and has been sharing her knowledge and skills with the Network ever since.
Q: Why did you decide to join the MVBWN?
Cheri joined the Network in 2018, after hiring had started to slow at Liberty Mutual. She found the MVBWN from a Google search, and is glad she did. She attended her first MVBWN dinner to meet people and to increase exposure for Liberty Mutual's open positions.
"If you're out there and talking about it, you'll draw people in, or the people in the group might know others who are good fit for Liberty Mutual."
Cheri became a board member because she "likes to help people." She realized that the Network is made up of "a lot of really nice people," and finds joy in helping them.
As a retiree, she remains a member to "keep herself relevant," and to make sure her skills and knowledge can benefit others instead of going to waste.
"Knowledge is power," she said, "I don't want to take what I've learned, retire, and just sit here."
She's even had the opportunity to give presentations at MVBWN meetings about prospecting, sales, and what's important when running a business.
To Cheri, aside from a women's business networking group, the MVBWN is "a group of nice people who enjoy each other's company."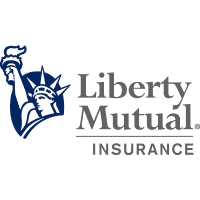 Q: What do you do, and why do you love it?
Cheri is a recent retiree and former manager at Liberty Mutual Insurance. She enjoyed management because she could connect with people, and connect people with each other.
Now that she's retired, Cheri is considering following her lifelong dream of owning a bakery. "I know there's coffee shops and bakeries everywhere. But I really want to service people."
She has plans to meet with an agent at the Small Business Development Center (SBDC), has been interviewing local business owners, and researching on the internet. If she does start her bakery business, Cheri is determined not to give up on it. She knows it won't be "wonderful" all the time, and that ups and downs are a part of any business (and of life).

Q: How did you get started?
While pursuing her Associate's degree from Herkimer Community College, Cheri was working three jobs. After graduating in the '80s, she found her first full-time job at Liberty Travel. She worked in administration for two years and became a sales rep for the next five. She then moved onto a management position.
However, the need for travel agents began to decrease in the '90s as people began planning their own vacations with the help of Google instead.
"I didn't feel that I was as important or that I was of service to people at that point. It kind of defeated the purpose of what I had been doing for the past 20 years."
So, Cheri spoke with her brother who had worked at Liberty Mutual for about three years. He convinced her that working as a sales representative at Liberty Mutual would be similar enough to her previous job. All she needed to do was to get licensed and undergo training.
In 2002 Cheri was hired as a sales representative at Liberty Mutual and held that position for about four-and-a-half-years.
When her district manager retired, he encouraged Cheri to apply for his position. After five interviews and many trips to-and-from Boston (the location of Liberty Mutual's headquarters), Cheri became the new manager. She held this position for ten years until her retirement in 2021.
Q: What tips do you have for other women who would like to get started?
Get involved in as many groups and organizations as you can—put yourself out there so people know who you are and what you do.
You have to give a new business at least 3 years to grow before determining if it will be successful.
What doesn't kill you makes you stronger.
It takes money to make money.
Be all in for the ups and downs.
Just do it.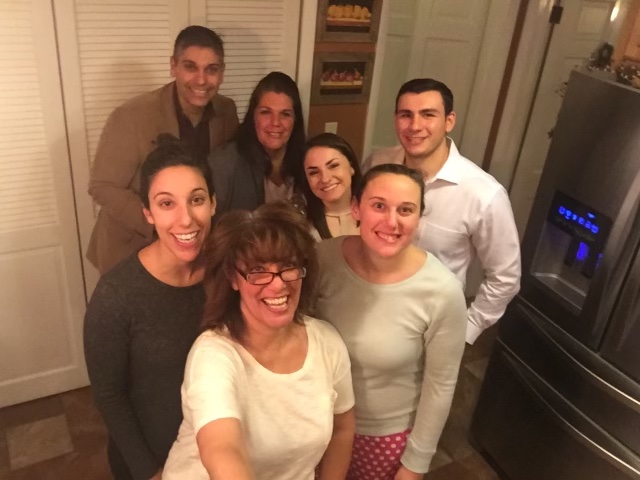 Q: What do you like to do outside of your business work?
Cheri has always loved to shop. She has a passion for decorating and explores interior and exterior design ideas on Pinterest. In addition, she likes to redo eclectic furniture and organize.
"I would always look at my house as a picture," she said. She takes the time to arrange each chair, pillow, and rug exactly how she sees fit, and works with paint colors to create a welcoming space.
Cheri has two daughters and one granddaughter. She enjoys fresh air on a beautiful day, walks outside with her granddaughter, and spending time with her family.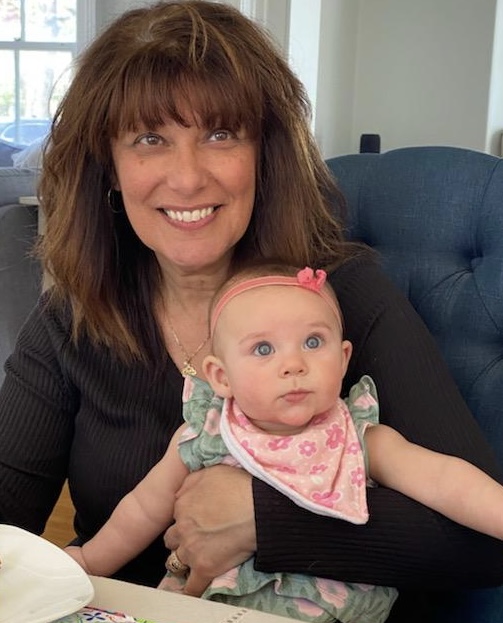 Q: What are your favorite inspirational quotes?
"Just do it."
"The long way, the hard way, the right way."
If you'd like to be interviewed for a featured Member Spotlight, please email us at marketing@mvbwn.org.
—
Are you a woman in business? Do you have an idea for a startup, but have no idea how to start up? Do you want to meet and be a part of a group of supportive, talented women? Join the Mohawk Valley Business Women's Network!
You can also follow us on Instagram, LinkedIn, like us on Facebook, and sign up for our email newsletter.
Are you a student interested in entrepreneurship? Join The Network with our Student Membership!