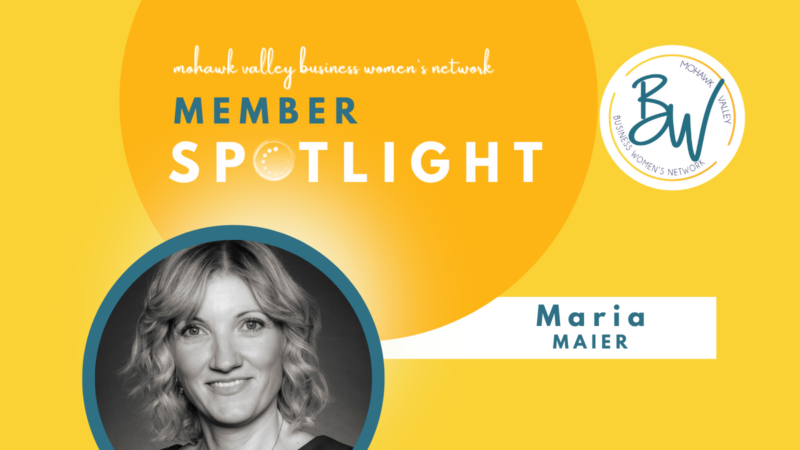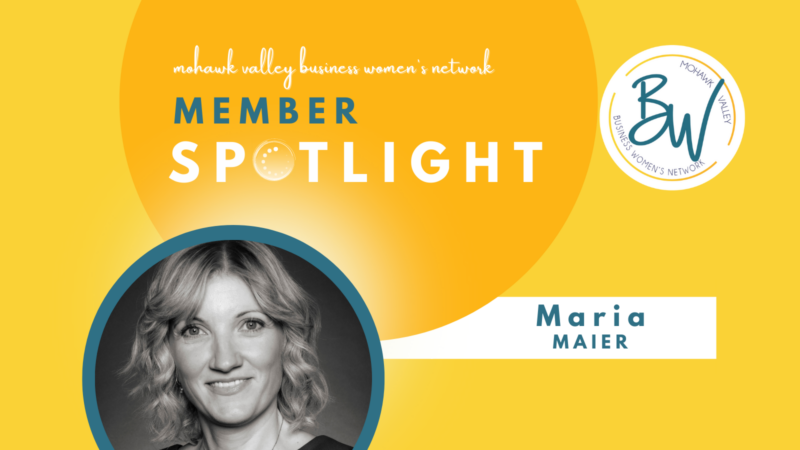 Our third spotlight features Maria Maier, business consultant and founder of Step Up & Thrive. She started Step Up & Thrive after realizing she was ready to do something new with her life.
She joined the Mohawk Valley Business Women's Network (MVBWN) last year, when she was thinking about becoming the entrepreneur that she is today.
Q: Why did you decide to join the MVBWN?
Before running her own business, Maria knew it would be important to surround herself with "a community of likeminded individuals." She wanted to get to know other women entrepreneurs in the area and garner advice from their experiences.
"Like John Maxwell says, 'You are the average of five people that surround you,'" said Maria.
It was important for her to have the MVBWN as a support group while she gathered resources and tips about entrepreneurship before starting her business.
"We are so much better together. There is so much value that each one of us can bring to the community and to support each other. One is too small of a number to achieve greatness."
Upon joining the Network, she found out that many of her friends were already members of the MVBWN.
"It's not just business. It's a very supportive environment where you can gain a lot of wisdom from your peers, even through informal conversations where we share our daily obstacles."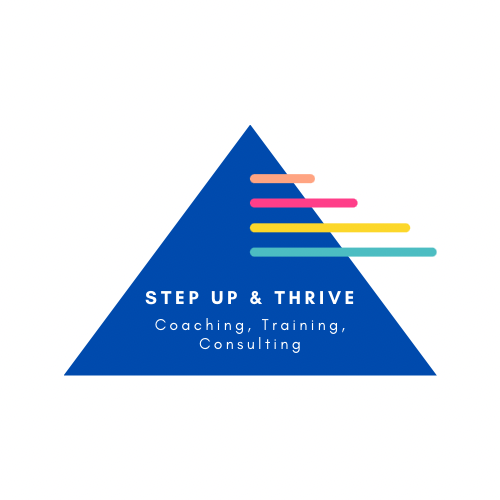 Q: What do you do, and why do you love it?
Maria is a business consultant, coach, speaker, youth leadership development facilitator, and founder of Step Up & Thrive. She helps people "develop strategic action steps to boost their productivity and results, and therefore become successful."
Through Step Up & Thrive, Maria provides valuable tools and resources to individuals, entrepreneurs, and organizations.
She joined the John Maxwell Leadership Team in 2020 as a certified coach, trainer, and speaker. This year she was selected to be a member of the John Maxwell Team President's Advisory Council.
"It's a very rewarding experience because I get to connect with and meet people from all over the world…and help them become successful within the Maxwell Leadership Team."
Q: How did you get started?
Maria attended college in her home country of Russia and earned a B.A. and Master's in Business Management. Prior to moving to America in 2004, she worked as an executive assistant in a large city hall in Russia.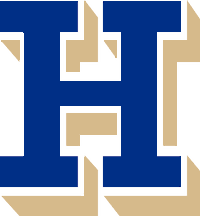 "When I left my job…I didn't know what to expect. I didn't have any plans moving to the U.S, but I was fortunate to get a job right away at Hamilton College."
She began her work at Hamilton in the Alumni Relations department where she planned fundraisers, reunions, and other events.
After working there for two years, Maria became a mom. She decided to step away from her job and stay home for the next four years.
"It was a hard decision to make…but I couldn't picture myself going back to a full-time job."
In 2010 she returned to her job at Hamilton, where she remained for ten more years. But for a while she'd been feeling an urge to do something more with her life, so she decided to pursue a second Master's in Higher Education.
Sadly, Covid-19 began about six months later, forcing Maria to press pause on her online education. With working for Hamilton from home and managing four young kids during the pandemic, taking online classes was just not in the cards anymore.
However, shortly after, Maria was introduced to some of John Maxwell's books. "I started reading his books and I fell in love," she said." Her favorite John Maxwell book is Fifteen Invaluable Laws of Growth.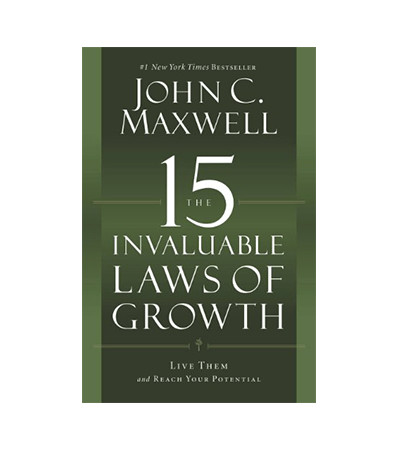 Coincidentally, she saw a Facebook ad for the John Maxwell Team, and she was thrilled to learn that a team existed. She decided to become John Maxwell certified and considers it "one of the biggest blessings" in her life.
She then began running John Maxwell certification programs for Hamilton coworkers. Even though these programs were a great success, Maria still felt limited between her job, her family, and her desires to grow her John Maxwell Certification into a bigger business.
And that's why she founded Step Up & Thrive last year.
"Now I'm happy to be partnering with different organizations and delivering workshops and trainings to higher institutions in the area and in the global arena."
Her vision for the company is to "to help individuals Step Up & Thrive as top leaders in their industry."
Q: What tips do you have for other women who would like to get started?
We all have a lot of superpowers and talents within us, and when we share them with the people around us, that's when we achieve fulfillment and significance in life.
Intentionality is the key. When you become intentional in your goals and your dreams, and take daily steps towards them, they happen. And you'll be surprised with the result.
If you feel like you're passionate about something, step into that calling. You can build your wings on the way down.
Just do it—now. Don't wait.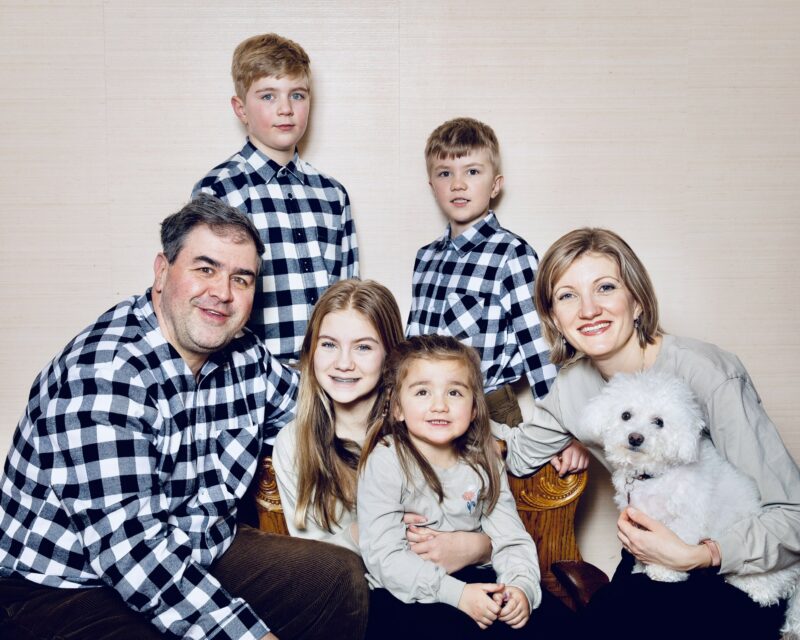 Q: What do you like to do outside of your business work?
Maria loves bike riding, camping, reading, listening to podcasts, and spending time with her kids and her family.
She lives with her husband, four kids, and their dog, Liza.
Q: What is your favorite inspirational quote?
"Be a river, not a reservoir. " – John C. Maxwell
You can reach Maria and Step Up & Thrive at this link.
If you'd like to be interviewed for a featured Member Spotlight, please email us at marketing@mvbwn.org.
—
Are you a woman in business? Do you have an idea for a startup, but have no idea how to start up? Do you want to meet and be a part of a group of supportive, talented women? Join the Mohawk Valley Business Women's Network!
You can also follow us on Instagram, LinkedIn, like us on Facebook, and sign up for our email newsletter.
Are you a student interested in entrepreneurship? Join The Network with our Student Membership!