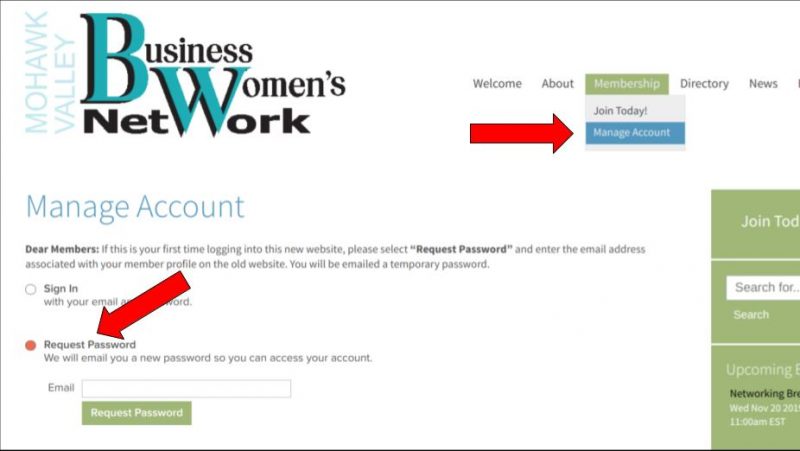 We have successfully moved our membership database to a new platform that will provide great benefits to each and every member! The biggest benefit is the much-improved member profile page. Every member has their own page on our website and this page will show up prominently in Search Engine results! This means more exposure for you and your business!
You can upload any number of pictures you'd like and provide as much information as you have about your business! For those of you who do not have a website (yet), this profile page can serve as your "landing page!"
Important Instructions:
In order to access the new website and your business profile, you need to request a new password. Please refer to the image above. Here are the steps:
Select the 2nd option: "Request Password"
Enter the email address you used on the old website (the same email address that this email was addressed to.)
Click: "Request Password"
Check your email – Look for an email from The Network.
Use the temporary password to login to your account.
Once you are logged into your profile, you can reset your password to anything you'd like.
Please complete as many fields as possible!!! Add ALL of your social media channels. Upload pictures! Copy information from your website into your profile.
MEMBER TO MEMBER DEAL! – This is a NEW feature with our new system. If you would like to offer an exclusive benefit to your fellow Network Members, you can do so at the end of the profile pages!!
IF YOU NEED HELP
If you run into ANY DIFFICULTY in accessing or updating your member profile, please call our marketing consultant, Scott Mathias at 315-351-2475. Scott asks that you be in front of your computer when you call so he can walk you through the process.