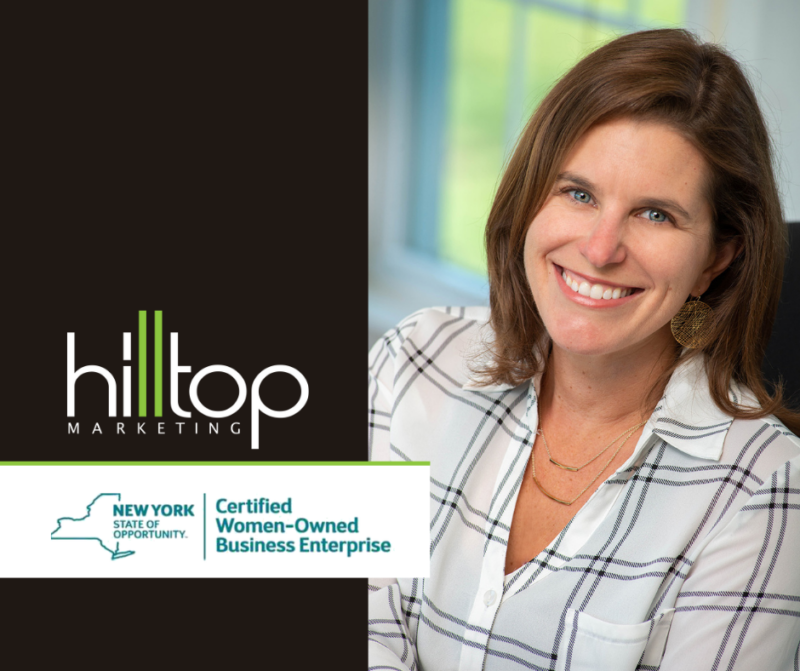 Hilltop Marketing has been recognized and certified as a New York State Woman-Owned Business Enterprise (WBE).
This certification was granted to Hilltop Marketing by Empire State Development's Division of Minority and Women's Business Development (DMWBD) on June 23, 2022. The process is meticulous and includes an in-depth review of the business to confirm that it is at least 51% owned, operated and controlled by a woman or women. The certification provides Hilltop with access to New York State contract and procurement opportunities, as well as access to a statewide network of support services exclusively for certified firms. As part of the NYS WBE Certification, Hilltop will also be listed on the NYS MWBE Directory of certified firms.
Hilltop Marketing was founded in 2018 by Leigh Ann Dillon with a goal to help small businesses and nonprofit organizations tell their story with a modern website. Hilltop specializes in WordPress website design, small business marketing, and digital communications.
Hilltop is excited to partner with businesses that search for this certification. "The recognition is a great honor, and I was fortunate to receive help from the Mohawk Valley SBDC." said Leigh Ann Dillon of Hilltop. "I'm so pleased to receive the certification and welcome this new exposure as my business continues to grow."
For more information about the New York State MWBE Certification process, visit https://esd.ny.gov/mwbe-new-certification
Visit Hilltop on the web at https://hilltopwebsolutions.com